Letter:GAUSS, Charles Henry to George Sibley Johns - 1913-01-18
From Gauss' Children

St. Charles, Missouri.
Saturday night, January 18, 1913.[1][2]
Mr. George S. Johns,
Care St. Louis Post-Dispatch,
St. Louis, Mo.
Dear George:
Several years ago, before Oklahoma was admitted to the Union, I was seated one morning on the gallery at the Frisco eating-station at Arapahoe, a point on the Frisco Railroad.
In the course of conversation with the manager of the station, who was a man well along in years, I learned that he was from Nacogdoches, Texas, and that in his young days he was well acquainted with Sam Houston.
I asked him if he knew why Mr. Houston had deserted his bride after a few days marriage. He raised his head and gave a quick, sharp look at me and inquired why I asked that question.
I told him that it always had seemed a very strange thing that Houston, soon after his marriage, would desert his bride and bright political prospects and, in fact, so many things that promised a brilliant future for him, had he remained at home in Tennessee, that I had never seen any satisfactory explanation of it.
He said that he could give me the reason, - that, when a lad, he was present when Houston was talking to his Father (who was an intimate friend) and that the statement was made under strict promise of secrecy. Houston probably wanted somebody else to know the truth, so that some day his record might be cleared up, and my informant said that many years had passed since then and that persons concerned had died and he felt at liberty to give me the information.
This was, that not long after Houston was married, some one's sleeping conscience awakened and it was told Houston that his bride was his own illegitimate half-sister. I presume that Houston wanted to take all the odium of his flight upon himself and came away without explaining.
At. Fort Gibson he married an Indian woman, whose name was Talahina, if I remember right. Her grave is in the Government cemetery at that post, in a circle with a number of other graves of prominent persons. From there, after several years had elapsed, Houston went to Nacogdoches, when Texas was still a Mexican state.
The town at that time, while small, was the center of political and social influences for the people who were coming across the border from Louisiana and, under the old council-tree there, much planning and plotting was done, looking towards the formation of a new Republic out of the Mexican state.
This is a very brief statement of the facts in the case and I believe them to be absolutely true. I have for a long time thought that I would hunt up additional points in Houston's career in the Indian Territory and Texas, with photographs, etc., and prepare an extended newspaper or magazine article, but the time never came.
It may not be unknown to other people but I have never seen this explanation given. Some years ago, I read a number of verses in a paper, explaining it by the statement that Houston had learned that he was not loved by his bride but that she was warmly attached to someone else and, rather than blight her prospects, he had left her. I do not think this was true.
The manager of the eating-station was either himself or his wife related to Colonel Yoakum of the Frisco R. R. and an uncle of Yoakum has written some account of Houston's life but I think passed this incident over mostly in silence.
It seems to me that if all this is true, and no one else knows about it, it is entirely proper for me to tell the story. If I were to get well, I might use it in preparing the article referred to above, but if not, you take it and make such use of it as you think proper and let the Post-Dispatch send Lizzie a check for what it is worth. It would be a big scoop for any newspaper.
Yours very truly,
C. H. Gauss (A.D.G)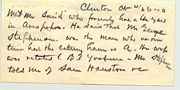 Since writing the above, have found the following memorandum:
"Clinton, Ok - 4/26/10
Met Mr. Smith who formerly had a lumber yard in Arapahoe. He said that Mr. George Stephenson was the man who at one time had the eating house in A. His wife was related to B. F. Yoakum. Mr. Stephenson told me of Sam Houston." C.H.G.

Sam Houston's Bride
By Rev. Eugene B. Read
Sam Houston when Governor of Tennessee married in 1829 Miss Eliza H. Allen, a beautiful young lady, the daughter of the former Governor. Houston discovered that she was coerced into marrying him, and the next morning he resigned his position as Governor, and in order that she might get a divorce on the plea of desertion, he secretly disappeared, went into the wilderness and lived for years with the Cherokee Indians. His conduct was misunderstood, and he was universally blamed. He suffered in silence all his life, he never talked of his marriage, and it was eighteen years after his death before his strange conduct was explained.
        She loved, and yet her heart was sad,
            He also loved, but could not wed.
        Her father interfered; he had
            Plans of his own instead.

        He asked her father for her hand,
            He knew he had her heart, he said.
        Her father raved, and gave command
            That they should never wed.

        For she was rich, and he was poor,
            Though he was noble, brave, and true.
        But pride of birth cannot endure
            The blood that is not blue.

        Once more, but only once, they met
            To kiss, and tear themselves away.
        She loved, and owned her love, but yet
            She could not disobey.

        He praised her much, and yet the dart
            Struck deep, because he loved her so,
        And therefore, though it broke his heart,
            He firmly bade her go.

        Oh what a fearful sacrifice
            Was here on Mammon's altar laid.
        Two ruined lives---oh, what a price
            Was to ambition paid.

        Trained from the cradle to obey,
            She tried to do a daughter's part,
        And so in marriage gave away
            Her hand, but not her heart.

        And thus she wed the Governor,
            The grandest man in Tennessee;
        But rugged as a chestnut bur,
            Yet kind of heart was he.

        Brave as Leonidas, and true
            To duty's call as tempered steel.
        Quick to decide what he should do
            When he the right would feel.

        He read her heart---a tell tale sigh
            Escaping from its prison cell,
        Revealed the tumult she could try
            To hide, but could not quell.

        He loved her more than words can tell,
            And so he could not mar her life:
        And therefore saw it was not well
            That she should be his wife.

        Oh, hard the battle was to fight,
            And hard to win the victory.
        But he would surely do the right
            As he the right should see.

        It meant the loss of power, and place,
            Of friends, and home, and worldly fame,
        It meant reproach, it meant disgrace,
            The blasting of his name.

        Oh, what a sacrifice was here---
            It meant to him his very life.
        But life to him was not so dear
            As her he called his wife.

        So on the morrow he resigned
            His power and place as Governor,
        And left his home---his friends---his kind---
            He did it all for her.

        Lombard, Ills.
---
↑ The date of death I have for Charles Henry Gauss is January 18, 1913, so this may have been dictated to his daughter, Anne Durfee Gauss, on his death bed. -SDC
↑ C. H. Gauss' brother-in-law, George S. Johns, was editor of the St. Louis Post Dispatch.
Source:
Typewritten copy in the private collection of the Chambless family. Transcribed to softcopy by Susan D. Chambless, February 20, 2000. Poem is from a newspaper clipping in the same collection.